If the recent reports are true, and by all accounts they seem to be, then there is a visible disconnect between LeBron James and Kyrie Irving.
Both are great players who have found success together. In their three seasons as teammates they managed to reach three NBA Finals, which includes a championship in 2016. Irving played a critical role, and he made one of the most important shots in league history.  So with all of the success, where is this coming from? After losing to the Warriors in the 2017 Finals Kyrie was quoted as saying: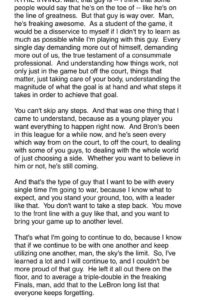 Kyrie even went as far as to consult Kobe Bryant on how to avoid a break-up similar to the one he and Shaquille O'Neal experienced. This current situation is a huge departure from his comments back in June. So, why the change of heart?
The reality is, this isn't a change of heart. Back in 2014 Kyrie signed an extension that would make him the de-facto franchise player. A couple of weeks later, LeBron returns home and instantly takes up that mantle, forcing Kyrie to be his sidekick. He never liked it, but he found a way to manage. Plus, winning alleviates everything.
However, since losing to the Warriors the Cavaliers have been in turmoil. They missed out on Paul George, Jimmy Butler and Jamal Crawford. Instead, they re-signed Korver, added Calderon (!!), and Jeff Green. The Cavaliers [Dan Gilbert] didn't sign their now-former GM David Griffin to an extension and missed out on landing Chauncey Billups for that role. Now there's speculation LeBron is most likely to leave the Cavaliers after this season.
The organization became a mess after the finals, but the Kyrie trade rumours rang the alarm. It seemingly came out of nowhere, and startled the basketball world. Why would he want to leave? A popular rumour is that he anticipates LeBron will leave next year so rather than wait around for him to do the inevitable, he wants to take immediate action. I personally don't buy this, and will explain why in a moment.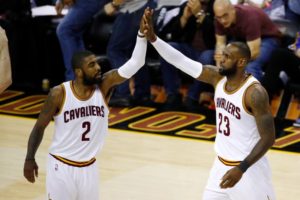 Another more plausible suggestion is that Kyrie is upset with playing second fiddle to LeBron. He wants to be more of a "focal point", and wants to be the main guy on a team. This is something he was promised back in 2014, but LeBron returning changed things. He's also envious of the power LeBron carries in the franchise. Randy Mims, a close friend of LeBron, works for the Cavaliers organization and travels with the team, a luxury not extended to Irving's inner circle. He's also upset about LeBrons ball dominance. LeBron isn't interested in convincing him to stay, or making recommendations to the team on trading him.
The Facts
Kyrie led the Cavaliers in usage and shots attempted. However, in the playoffs and finals this number obviously shifted. LeBron was the go-to player, and with reason. Kyrie Irving has never proven himself to be capable of leading a team.  James returning has helped elevate his game and experience winning.
Analysis
This is the classic case of egos colliding. Kyrie Irving craves to be the go-to player. Playing behind LeBron James obviously has its perks, but for a guy wanting the spotlight those things don't matter. He's experiencing what Kobe went through with Shaq, and what McGrady went through with Carter. This could either be really good for him, or backfire heavily. I lean towards the latter. Kyrie is a ball-dominant isolation scorer who will dribble as often as he sees necessary. The modern NBA has moved away from this style of play and rendered it obsolete. It's all about ball movement and spacing. It's why the Warriors are so successful despite having a huge collection of superstars. Kyrie will soon realize that the grass won't be greener on the other side.
This is why the rumour of LeBron leaving is influencing this decision doesn't hold much weight. If he believes LeBron is leaving and he wants his own team, he has incentive to play one more season and take the reins afterwards. However, this isn't the case. LeBron doesn't know what he wants to do, so it's laughable to think Irving does.
LeBron James is not off the hook, either. He's been disappointing in how he's dealt with this situation. As a leader he has a responsibility to reach out to Irving and try to understand what's going on and where's this is coming from. He owes him that much. Open communication could smooth things over. Irving is only 25 years old. He's young and may be lashing out, or he may sincerely want this. Perhaps after their conversation Kyrie still decides he wants to leave, but at least he did his part in trying to convince him. Either way, LeBron should initiate a conversation and figure this out. As teammates who won and made history together, it's not ideal to just self-implode like this. In team sports, and in life, communication is necessary. However, speaking through the media about feeling "blindsided" and taking not-so subtle shots at Kyrie on Instagram is distasteful. Speak directly to your teammate.
Final Thoughts
The Cavaliers have many options. They could fulfill his trade request and send him off. Or, they could just ignore it and have him continue to suit up for the team. Either way, nothing should happen until both Irving and LeBron have a conversation. If they can't and he ends up leaving, Cleveland will end up losing this year, again.