It's time to worry about the Cleveland Cavaliers.
They dropped 5 of their last 6 games, and 9 of their last 12. They gave up 127, 133, 118 and 148 points to the Timberwolves, Raptors, Warriors and Thunder respectively.
Everyone has been quick to say "it's only January", "they always struggle in January", but that is no longer a valid excuse. The players seem uninterested, the coaching hasn't been effective and management appears unwilling to make any moves. These reasons alone are enough to cause concern.
In the past, the Cavaliers have struggled at parts of the season, but the organization did whatever it took to push the team forward. Whether it was making blockbuster trades or replacing the head coach, it led to finals appearances, and a championship in 2016.
Now, we're not seeing anything remotely close to what we've seen in the past.
Let's explore deeper, shall we?
What's Going On?
This is the million dollar question that has been burning in the minds of basketball fans. This isn't an easy answer, but let's try to break it down. It comes down to LeBron James, coaching, the players and management.
LeBron's impending free agency and the mystery surrounding his upcoming decision has everyone walking on egg shells. There are many rumours linking him to the Lakers, and his silence has many in the organization worried. This creates a difficult situation for management. In the years since LeBron came back, they operated under the mantra of 'keep LeBron happy at all costs', but with the possibility of him leaving, that doesn't seem to be the case. They don't want to make any moves involving their draft pick because they don't want to miss their chance of rebuilding for the future if LeBron does leave. However, they also want to appease him, but what if they trade their draft pick, get to the finals and still end up losing again to the Warriors? What happens then? That's where the confusion kicks in.
How Could This Be Solved?
This uncertainty is hindering management from making major moves. The reality is LeBron should be more transparent. He should express what his intentions are before the trade deadline. Something as simple as "if we win, I'll stay", or "if we lose, I'm out". From there, let management do a risk assessment and put the pressure on them. His silence is a big factor in all of this. It's time for LeBron to be upfront.
Coaching is another problem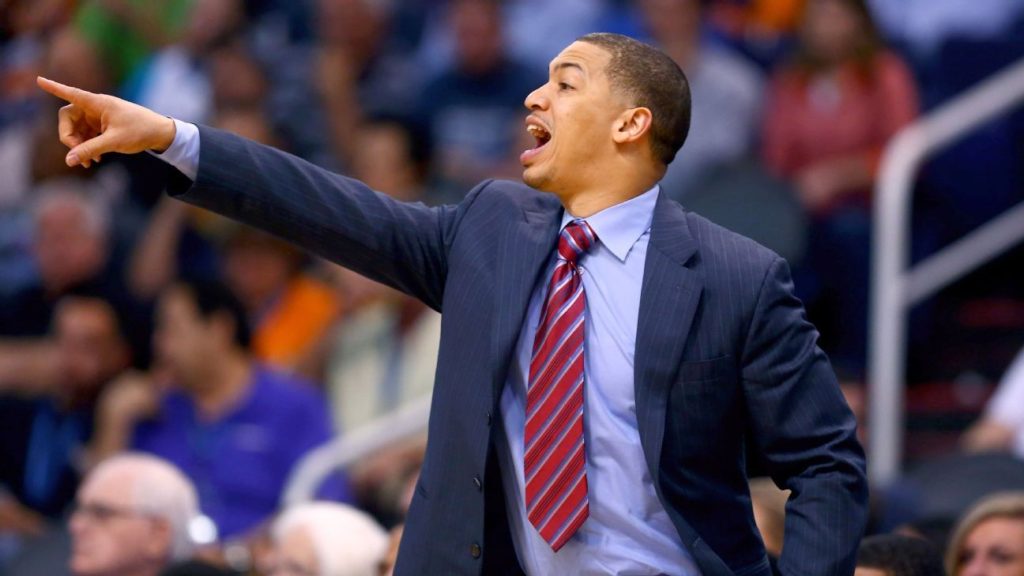 When the season started, head coach Ty Lue opted to play small ball, putting Love at the centre position and Jae Crowder as power forward. The results have since been lukewarm. Kevin Love at centre might bring its advantages offensively, but he's a defensive liability and has no business playing that position. The Cavaliers are the 3rd worst defensive team and their line-ups are a major reason why. He needs to reshuffle it and move Love back to his natural position.
Secondly, the Cavaliers have depth and he doesn't seem to fully utilize it.
Assuming no trades are coming, he needs to dig into his rotation and utilize the talent they have, because they have a lot of it.
Key Players Haven't Stepped Up
JR Smith and Tristan Thompson were given quite sizeable contracts, but they haven't lived up to it. Tristan Thompson appears to be a shell of himself from the 2015 and 2016 finals. Granted he's coming back from an injury, but his struggles began last season and he just hasn't been the same since (cue the Kardashian curse jokes). Despite his struggles, he is arguably their biggest player and should be the starting centre for this Cavaliers team as of right now. Perhaps his size could help them defensively.
JR Smith has been relatively inconsistent since receiving his extension. After the Cavaliers signed Dwyane Wade and put him in the starting line-up, it was JR's whining combined with Wade's humility that got him back his starting job. Since then, he's played absolutely atrocious on both sides of the floor. He doesn't remotely resemble a starter and doesn't deserve to be one. He should be relegated to the bench.
Solution
Both Smith and Thompson have been floated around in trade rumours, and that may be the best solution for this team. They contributed to their championship in 2016, earned fat contracts and haven't produced since. It's time to part ways for pieces that will help steer this team in the right direction.
Lack of Action From Management
There's a impasse in the Cavaliers organization. Dan Gilbert wants a 3-5 year commitment from LeBron, and he isn't willing to do that. As a result, they've held back on making any major moves, especially with their draft pick because they don't want to risk their future in case LeBron leaves.
Dan Gilbert and LeBron James are not fond of one another, but for professional reasons tolerate each other. However, their differences are now directly impacting the team. Even though LeBron is the leader and could be more transparent, there's no excuse for management to be behaving juvenile and incompetent. So where does management go from here?
Just Make a Move
If they're that uncertain about LeBron's future, they need to find a way to make a trade without including those picks. Just make a move. The team is clearly struggling defensively, so bring in some players to help quell those issues. Dan Gilbert needs to realize that without LeBron the Cavaliers wouldn't even come close to being contenders. If LeBron leaves, their championship days are over. You still have him for this season and have a chance to contend, so why squander that? Dan Gilbert, Make a move.
There's still plenty of time left in the regular season but with each passing day the Cavaliers have less time to get back on track. Something needs to change, sooner, rather than later.