Kevin Durant has been making headlines lately, and its not for his performance. This leads us to ask: What's with Kevin Durant?
Granted he's having a phenomenal season, but his play is largely being overshadowed by his recent comments. Last week he said the following:
"So much hype comes from being around LeBron from other people. He has so many fanboys in the media. Even the beat writers just fawn over him. I'm like, we're playing basketball here, and it's not even about basketball at certain points. So I get why anyone wouldn't want to be in that environment because it's toxic. Especially when the attention is bullshit attention, fluff. It's not LeBron's fault at all; it's just the fact you have so many groupies in the media that love to hang on every word. Just get out of the way and let us play basketball."
This statement was covered on the latest episode of the Wire to Wire Podcast, but I've come to the conclusion that he was trying to show loyalty to his current team, which was brought into question earlier this season.
Before the dust could settle from those comments he came back again to say the following:
"Kobe, MJ and Kyrie, just the way they move, I don't understand why people don't realize what they're seeing in these three, especially Jordan and Kobe. Kyrie is younger than me, and that's one of my best friends, so I watch his stuff. I get to play with Steph every day, so I know his game inside and out. But watching Kobe and Mike, I'm like, 'How do you not realize how good these dudes are?' How do you not say they're by far better than anybody who's played the game? Just by the way they move, how fluid they are."
On the surface this is a harmless statement, but with what we know about KD, it's anything but. It's not who he mentioned, but who he omitted intentionally. That kid from Akron was purposely left out of his list. It could either be he genuinely doesn't think highly of LeBron, but that's doubtful. After the statement made last week, he purposely did this for three reasons.
Reason 1:
He wanted to prove a point to the media. Durant wants to prove the media is indeed filled with "fanboys" and "groupies" of LeBron, and that there would be public outcry at his omission.
Reason 2:
Kevin Durant is trying to overcompensate by showing loyalty to this Warriors team.  He was berated by Draymond Green in which he called him a "b—h" among many other things. His loyalty to the Warriors has recently been questioned as he's been linked to the Lakers, Knicks, and now the Clippers, as a free agent. The Warriors enjoy taking shots at LeBron every chance they get, and this is Kevin Durants way of blending in and trying to ease those suspicions.
Reason 3:
Durant simply has too much time on his hands. There's no other way to put it. We have never seen a NBA superstar who cares more about what people think of them than Kevin Durant, and it shows. From his comments to the burner accounts, it's become excessive. His peers don't nearly spend as much time online as he does.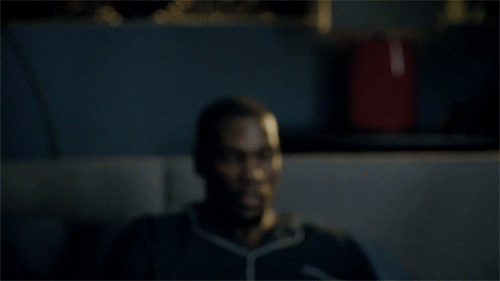 Kevin Durant is known as a lethal scorer and an elite player, but his antics are quickly garnering him a whole new reputation: A troll.
Hopefully this is enough for him. Although he has a lot of accolades as a basketball player, there's no award for this new found talent.