The Weeknd Releases Music Video for Out of Time
By Yusuf A on April 5, 2022
Musical artist The Weeknd released his latest music video for Out of Time. This is his latest visual from his album Dawn FM.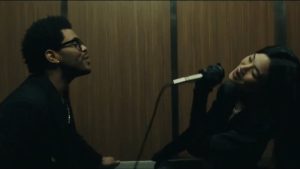 Out of Time features guest appearances by Squid Game actress Hoyeon Jung and Jim Carrey. The video is part of a larger story, as revealed by The Weeknd himself on Twitter. The video includes The Weeknd and Hoyeon doing karaoke to Out of Time, as well as blood and gore (of course).
You can watch the full video here!